Thailand's "Rose of the North" is a cultural and natural wonderland with its ethnic diversity, variety of sites and welcoming reception. Chiang Mai is a provincial capital and the second largest city in northern Thailand, located 700 km north of Bangkok in a mountainous region ideal for tourism. The city was founded in 1296 and remained the capital of the independent Lanna Kingdom until 1558, playing a very strategic role in the north of the country. Chiang Mai has raised its status as a "province" since 1933 to the present. The old city still retains remnants of walls and moats from its time as a cultural and religious centre, and is home to hundreds of ornate Buddhist temples, including the 14th century Wat Phra Singh and the 15th century Wat Chedi Luang decorated with carved snakes, bazaars, cooking schools and colorful festivals, etc.
Tourism in Chiang Mai has been growing by 15 percent annually since 2011, making Chiang Mai a major tourist attraction due to its topography, climate and cultural history.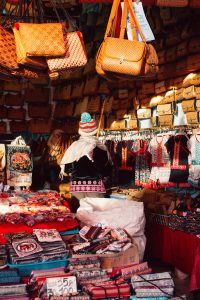 Tourism has played a very important role in promoting traditional handicrafts by bringing benefits to the local community. 80% of the population in Chiang Mai province are farmers, mostly smallholders, and increasing productivity through the use of ICT could improve the local economy and standard of living.
There are many universities in Chiang Mai, Thailand, namely Chiang Mai University, Rajamangala University of Technology Lanna, Chiang Mai Rajabhat University, Maejo University, Far Eastern University, and Payap University, as well as numerous technical institutions and other higher education institutions. However, Chiang Mai University is the first state university in Thailand to be established outside of Bangkok, and Payap University is the first private university in Chiang Mai to be granted university status.
Chiang Mai is improving the quality of medical tourism for the local and urban population as well as for international tourists who want to stay longer due to the low cost of living and high-quality services at low prices in general health care, dentistry, ophthalmology and traditional Thai medicine.
In addition, there is a great opportunity for agritourism, the analysis of which reveals three types of agritourism needs: Activities and Shopping, Services and Location, and finally Attractions and Environment. Agritourism is a type of business that farmers engage in to generate additional farm income. Farmers promote their agricultural products, provide amusements, and educate the public about agriculture and farming.
Nowadays, Chiang Mai has managed to renew and grow without losing its charm, offering a lot to all visitors. Thousands of visitors come here every year, some even choosing to stay to relax and enjoy the beauty of nature. Surrounded by mountains that make the weather less humid and humid compared to Bangkok, Chiang Mai is considered one of the best places to live with a relatively low cost of living in Thailand. The atmosphere is very relaxed, especially within the walls of the old city, which gives Chiang Mai a special charm, and there are many opportunities for relaxation and interesting attractions for anyone who chooses to visit and live in Chiang Mai. The city's location on the Ping River and proximity to major trade routes have contributed to its historical importance. The city of Chiang Mai encompasses most of the Mueang Chiang Mai district with a population of 127,000. The census dates back to 1983, when the urban area of Chiang Mai was enlarged for the first and last time since it became the first urban municipality in Thailand, namely Siam, in 1935. Since then, the city has expanded to include several neighbouring districts, from San Kamphaeng in the east, Suthep in the west, Hang Dong in the south to Mae Rim in the north, forming the Chiang Mai urban area with a population of 1.19 million, representing more than 66 percent of Chiang Mai province's total population of 1.8 million. Chiang Mai was awarded the UNESCO "Creative City" title in December 2017.
Chiang Mai has many historical and cultural museums that attract tourists. Some of the museums are Chiang Mai City Arts and Culture Centre, Chiang Mai Zoo Aquarium, Chiang Mai National Museum, Chiang Mai University Art Museum, Chiang Mai Numismatic Museum, the Museum of World's Insects and Natural Wonders etc.
Chiang Mai has an excellent shopping mall, Central Festival, Maya and Promenada, Night Bazaar, and Saturday and Sunday markets where you can buy various authentic handicrafts and other items. The best places for visitors to shop are the Night Bazaar, Warorot Market, Kad Suan Keaw Shopping Centre, Sunday Market and Saturday Market, which are also good places to shop.
There are some beautiful gardens for visitors to visit, such as Night Safari Park, Dokmai Garden (Hang Dong), Pui National Park (Doi Suthep), Opkhan National Park (Nam Phrae), Phuping Palace (Doi Buak Ha), Mae Sa Waterfall and Doi Inthanon National Park.
There are an estimated 32,000-40,000 hotel rooms in Chiang Mai, and the hotels offer luxurious rooms furnished to the highest standards, providing everything the discerning traveler needs, such as Shangri-La Chiang Mai, The Empress Hotel Chiang Mai, Holiday Inn Chiang Mai, Le Meridien Chiang Mai, Anantara Chiang Mai Resort, Four Seasons Resort Chiang Mai, Wangburapa Grand Hotel, Duangtawan Hotel Chiang Mai, Vipa House, Royal Lanna Hotel and Elephant Retirement Park.
Chiang Mai International Airport (CNX) is the fourth busiest airport in Chiang Mai province and northern Thailand. There are two terminals for domestic and international flights in a single building. The (CNX) airport offers a whole range of facilities to visitors. Now, (CNX) airport has become a popular tourist destination, receiving 2 million visitors annually and 130 flights per week from Bangkok, China, Taiwan, Myanmar, Laos and Singapore. There are many travel agencies and customer service counters for Thai Airways, Bangkok Airways, AirAsia, Nok Air, Singapore Airlines and other airlines. There are several currency exchange bureaus and ATMs in the terminal. There are numerous dining facilities, including two cafes, a deli and a fast-food outlet, as well as a number of stores selling silks, fresh produce, souvenirs and handicrafts. There are additional food and merchandise stores in the departure lounge.
The airport is only about 3 kilometers from the city center and is easily accessible by cars, cabs and busses.
Visit to a (Wat) Temple: Thais prefer to visit temples by covering their bodies and wearing temple clothing out of respect for their religion, which in some places means only clothing that covers the knees, cleavage, waist and shoulders. Visitors may wear a long skirt and T-shirt or a long dress with a scarf covering the shoulders. Religious things such as Buddha statues, monks or teachers and Chedi are not allowed to be climbed or touched, and when sitting on the ground, people should never point their feet in the same direction to show respect. They consider the head as "high" and the feet as "low".
Temples of Chiang Mai: Chiang Mai has 117 Buddhist temples in the city area. The temples are the historical and cultural heart of the city and have been the most famous pilgrimage sites for the people of the north for centuries. As traditional centers of merit, they are the best places to witness Buddhist ceremonies. Funded over a long period of time by noble and wealthy benefactors, they have become famous places where some of the finest examples of religious cultural activities can be seen.
Temple (Wat) Chiang Man, Chiang Mai: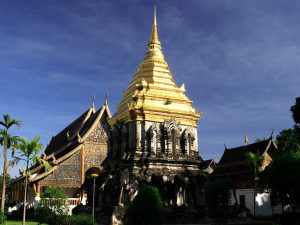 Wat Chiang Man is the oldest royal temple in Chiang Mai and was built in 1296 by King Mengrai of the Lanna Kingdom, the founder of the new capital Chiang Mai. This temple is famous for its building that houses a large mondop structure for an altar surrounded by Buddha statues. One of the standing Buddhas has the year 1465 CE engraved on its base, making it the oldest statue in the Lanna Kingdom. It is also the oldest statue in Thailand showing the Buddha holding an alms bowl. This temple houses two important and revered Buddha images, the marble Phra Sila and the crystal Phra Satang Man. The Chedi is the first and oldest structure and design of the Lana mixture in this place. The beautiful Lanna-style ordination hall houses an ancient Buddha image called Phra Kaew Khao, which is revered by Chiang Mai residents. Wat Chiang Man is located on Ratchapakhinai Road in the northeast corner within the old city walls. This royal temple is of historical importance and the Chedi with the protruding elephants. Opening hours: 8.00-17.00
Wat Phra Singh, Chiang Mai: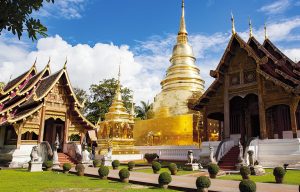 Wat Phra Singh Woramahaviharn, fully named Wat Phra Singh, is a Buddhist temple (wat) in Chiang Mai, northern province of Thailand. King Ananda Mahidol (Rama VIII) granted it the status of a royal temple of the first class in 1935. Wat Phra Singh was built in 1345 when King Phayu, 226-227 the fifth king of the Mangrai dynasty, had a chedi erected to bury the ashes of his father King Kham Fu. A few years later, a wihan and several other buildings were added and the resulting complex was named Wat Lichiang Phra. The statue of Phra Buddha Singh brought to the temple in 1367 and the temple complex received its present name. The temple is located at the end of the main Rachadamnoen Road in the west of the old city within the city walls and moat. The main entrance is guarded by Singhs. It is reminiscent of an example of classical northern Thai architecture. It houses the Phra Singh Buddha, a highly revered figure brought here from Chiang Rai many years ago.
There are two other Buddha statues in Thailand that refer to Phra Buddha Sihing, One is located at Wat Phra Mahathat in the city of Nakhon Si Thammarat and the other at the National Museum in Bangkok.
During the Songkran festival each year, the statue is taken from the Wihan Lai Kham and carried through the streets of the entire city in a religious assembly, while onlookers honor the statue by sprinkling it with water.
Wat Chedi Luang, Chiang Mai: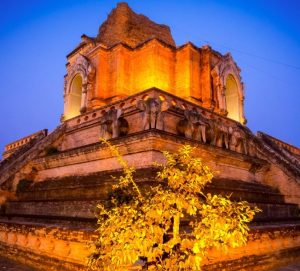 Wat Chedi Luang (the Temple of the Great Stupa), also known as Jedi Luang, consisted of two other temples called Wat Ho Tham and Wat Sukmin, which were all merged into one temple. The temple was founded in 1401 and is dominated by a huge Lanna-style chedi that took many years to complete. The chedi was damaged by an earthquake, of which only two-thirds remain in the 16th century. Wat Chedi Luang is an important royal temple located on Phrapokklao Road in the old walled part of Chiang Mai city. There are many hostels, hotels and restaurants within easy reach of the temple. The temple still offers tourists a beautiful view of the city. Tourists are invited to talk to the monks and can ask questions about Buddhism every day.
Wat Phra That, Doi Suthep, Chiang Mai: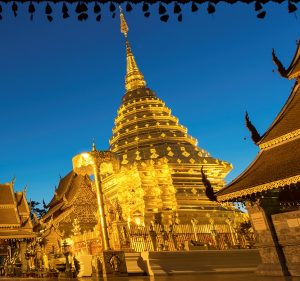 Wat Phra That Doi Suthep, is the most famous and beautiful temple of Theravada Buddhism in Doi Suthep on a mountain in the northwest of the city at an altitude of 1,073 meters. The temple was founded in 1383, when the first stupa was built, and the temple was not built until 1935. The temple has been expanded from time to time to look more beautiful and have more shrines. The temple is 15 kilometers away from Chiang Mai city and is located at an altitude of 1,073 meters. The downtown of Chiang Mai can be impressively overlooked from the temple. Do not forget to go to the terrace for a bird's eye view of Chiang Mai city and the surrounding sites. This temple is one of the most sacred places in Thailand, as it is a relic from the time when Chiang Mai was the center of the Lanna Kingdom in the 14th century. Visitors can climb 309 steps to reach the pagodas or take a streetcar. It is also possible to walk to the temple from the city's Monk's Way. When entering the temple grounds, visitors must be dressed appropriately and essentially remove their footwear. The original gilded Chedi is the most sacred area of the temple complex. There are pagodas, statues, bells, a museum and shrines on the grounds. Aspects of the wat derive from both Buddhism and Hinduism. There is a model of the Emerald Buddha and a statue of the Hindu god Ganesh. Many pilgrim tourists come from Singapore, China and India, as well as other countries.
Mosques/ Masjid in Chiang Mai:
The Muslim population of Chiang Mai is diverse and consists of ethnic groups that have migrated from China, Pakistan, Cambodia, Bangladesh, Malaysia and Indonesia, including ethnic Thais, etc. Muslim traders had traveled to northern Thailand many centuries ago and some of them had lived in Chiang Mai since at least the mid-19th century. There are mosques in the city for Chinese or Chin Haw Muslims, as well as for Muslims of Pathan, Bengali, and Malay descent.
The history of Pakistanis in Thailand begins before independence, when hundreds of people came to Thailand from the regions of what is now Pakistan, which was then called Siam.
Many Muslims are ethnically and linguistically Thai, either hereditary Muslims, Muslims by intermarriage, or recent converts to the faith. Ethnic Thai Muslims live primarily in the central and southern provinces, where there are both entire Muslim communities and mixed settlements.
The former commander-in-chief of the Royal Thai Army, General Sonthi Boonyaratglin, is one of the indigenous Thai Muslims. Sonthi is of Persian descent. His ancestor, Sheikh Ahmad of Qom, was an expatriate Iranian merchant who lived in the Kingdom of Ayutthaya for 26 years.
The culture of tolerance in Siam and later in Thailand led to a great diversity of Islam in Thailand. The city has more than 16 mosques (masjid) where both the local Muslim community and Muslim tourists can perform their daily prayers and other religious activities. The Chiang Mai Masjid is known as the "Ban Haw Masjid", the oldest and largest masjid near the night bazaar. The other mosques in Chiang Mai are Chang Phuak Mosque and San Pa Khoi Mosque.
Hedaytul Islam (Baan Haw) Mosque, Chiang Mai: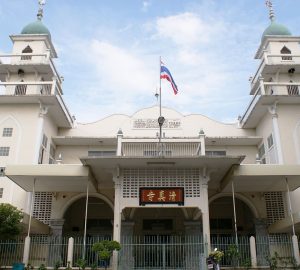 Ban Haw Masjid (มัสยิดบ้านฮ่อ) is one of the largest mosques in Chiang Mai province and one of the seventh Chinese mosques in Chiang Mai. It was first built in the 19th century by a group of Chinese Muslims called Chin Ho / Hui, who were mainly from Yunnan province. The present buildings were later constructed in the Arabic style rather than the Chinese style, with the exception of the prayer hall.
Classes for young Muslims are held at the mosque every Saturday and Sunday from 08:00 until afternoon prayer (Dhuhr). The mosque accepts 20 students every year free of charge who cannot afford to attend a government school.
Attaqwa Mosque, Chiang Mai: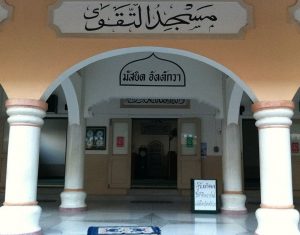 Attaqwa Mosque (訕巴契清真寺), (มัสยิดอัตตักวา) or San Pa Koi Mosque is located east of the Ping River in Chiang Mai. It is one of the seven Chinese mosques in Chiang Mai province. It was started in 1967 and completed in 1969 by a group of Chinese and non-Chinese Muslims. The mosque also houses the first Islamic school in Chiang Mai and maintains cultural and educational activities with similar institutions in Kunming, Yunnan Province, China.
Sacred Heart Cathedral (Church), Chiang Mai: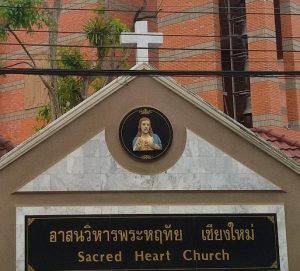 Sacred Heart Cathedral was built in 1931 at the request of Pastor Gorge Merabell and a Thai monk named Nicholas in Chang Klan, Chiang Mai. It serves as a place for religious activities for Christians living in Chiang Mai or northern Thailand. Today, the main church is the third building of the cathedral, which was built of bricks and cement. It is big enough to receive more than 6oo guests. The building has a square shape with a triangular end of the roof and a dome decorated with a cross. The interior of the cathedral is decorated with drawings and colored glass. The door paneling is also made of carved wood, which is so beautiful yet delicate. Sacred Heart Cathedral is the main church of Chiang Mai and is very valuable and important for Catholics staying in the north of Thailand, as it has a long historical background and was built in the heyday of the spread of Christianity. Moreover, it is still a main cathedral of northern Thailand.
Gurdwara Siri Guru Singh Sabha (Sikh Temple), Chiang Mai: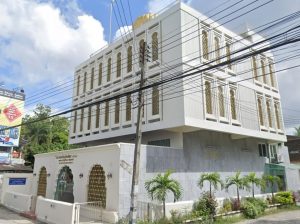 There are two Gurdwaras Siri Guru Singh Sabha and Namdhari for the worship of the Sikh community in Chiang Mai. Mr. Ishar Singh is the first person to travel from India to Chiang Mai, Thailand in 1905. A short time later, Mr. Rattan Singh, Mr. Gian Singh, Mr. Wariaam Singh and Mr. Amanda Singh came to Chiang Mai. In 1907, this group of Sikh people decided to build a Gurdwara at 134 Charoenrat Road, Chiang Mai, which has since been expanded to 240 square meters.
Devi Mandir (Hindu Temple), Chiang Mai: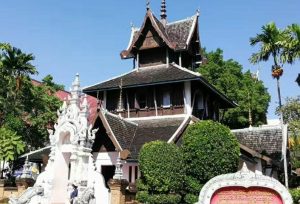 There are two colorful Hindu temples in Chiang Mai. The traditional shrine room and sikhara (tower) of the Devi Mandir in Chiang Mai are colorfully painted. The purpose of worship in the mandir is to have (or see) "darshan" of the gods and goddesses. Worship enables the believer to see clearly – and be seen by – the divine.
Restaurants in Chiang Mai:
Restaurants in Chiang Mai have their own cooking culture inspired by Myanmar and China. Northern specialties such as Khao Soi (coconut curry noodle soup), Sai Ouer (northern Thai sausage) and Gaeng Hung Lay (salty and sweet curry) can be found throughout the country. However, the best dishes to enjoy are those originally created.
Khao Soi or Khao Soy is the most famous dish of northern Thai noodle soup (two types of yellow noodles) prepared with a spicy coconut curry and served with chicken or beef.
Ohkajhu Organic Vegetable Garden Restaurant, Chiang Mai: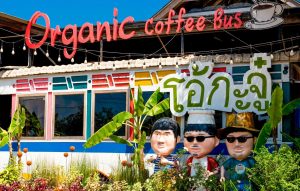 This famous restaurant in Chiang Mai consists of organic vegetables that the restaurant grows itself. Ohkajhu Organic Vegetable Garden Restaurant selects the best ingredients to create a menu that is both delicious and tasty for the health of its valued customers, such as steak, salads with fresh organic lettuce served directly from the shop's garden every morning.
The Good View Restaurant, Chiang Mai:
The Good View Restaurant was established in January 1996 and has become one of the most influential new style bars and restaurants in the famous entertainment street Charoen Raj Rd, Chiang Mai. The restaurant provides an excellent atmosphere in Chiang Mai through food and drink with live bands playing live music for the main entertainment. The focus of the restaurant for the local visitors and tourists for the experience of wine and dine, besides the famous Ping River, which serves as fashionable traditional food and drinks and also for international Thai CUISINE, European cuisine, and JAPANESE cuisine with wide range of food menus, the restaurant has an extensive selection of wine, alcoholic and soft drinks as well as amazing selection of cocktails, designed in the contemporary wooden style, the restaurant provides a good atmosphere and semi-formal place for Experiencing Chiang Mai NIGHTLIFE. Good View Restaurant has opened another branch in Bangkok, located on the banks of the famous Chao Phraya River in Charoen Krung Road, Bangkok.
Halal Restaurants in Chiang Mai:
Chiang Mai has a number of the best halal restaurants for local visitors and international tourists. In these restaurants, visitors and tourists can enjoy a variety of dishes according to their needs, including Asian, Arabic, Thai, Pakistani and Indian.
Peshawar Restaurant, Chiang Mai: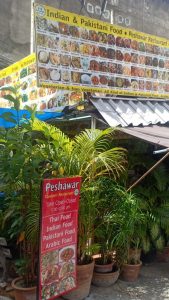 Peshawar Restaurant is one of the best halal restaurants in Chiang Mai, Thailand that you can visit with friends and family. It is a family run restaurant. It is very busy and famous area of Night Bazaar Chiang Mai city. The restaurant has the specialty menu according to your requirements and provide the best services in the restaurant. It is delicious, simple, delicious and tasty food prepared with 20 years' experience in our restaurant as well as our Thai, Pakistani chefs are excited to present their delicacies food for all our guests. Our caring and dedicated staff will make sure you have a fantastic experience with us. It is the perfect place to satisfy you and your family friends whenever you are in Chiang Mai.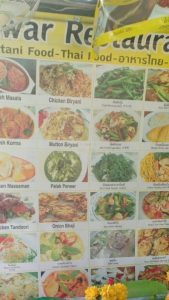 Let us take a look at the Menu of Peshawar Restaurant: you will find a wide range of lunch, hi-tea, dinner, single plate combinations and executive platters with prices ranging from THB 150 to THB 500. What all the offerings have in common is that the focus is on desi dishes. For example, the menu includes Mutton Biryani, Chicken Biryani, BBQ, Roghni Naan, Mutton Karahi, Chicken Seekh Kebabs and more. The restaurant offers an incredible variety of tandoori dishes, delicious curries, juicy kebabs, various breads, Indian-Chinese fusion dishes, local Thai cuisine and a wide range of beverages.

Let us know your special requests or dietary restrictions so we can help you plan your menu!
Be sure to try our kebabs, dal and naan, lassi, etc.
TASTE TYPES: Asian, Indian, Arabic, Middle Eastern, Thai, International,
SPECIAL DIETS: Vegetarian friendly, Vegan options, Halal,
FEATURES: delivery, take-out, reservations, outdoor seating, free Wi-Fi, digital payment options, table service, parking available,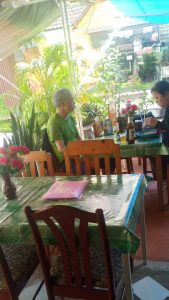 Certified 100% Halal treats!
Simply order through leading food delivery services like Food Panda, Grab or Lineman!
The restaurant is open from 10:00am for deliveries and until 10:00pm for takeaway.
Thai Massage: (Spas & Wellness) in Chiang Mai:

Chiang Mai is famous for its Thai massage, spas and wellness rightly so. There are many massage, spa and wellness centers in the city, from pop-up massage chairs on the roadside of Loi Kroh Road to exclusive spas in 5-star hotels offering various types of quick, simple, facial and foot massages, to month-long courses in the art of Thai massage and for a gentle, silky oil massage or to relieve an elbow in the back.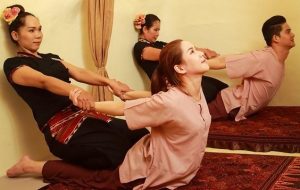 Traditional Thai Massage is just famous for its various techniques applied to the whole body from head to toe. Thai massage reduces the severity of headaches, reduces pain in the lower back and joints, increases flexibility, calms anxiety, and energizes the body and mind. Thai massage is not a medical treatment. It is a stretching and deep massage in Thailand. There are different prices from (150 THB ($4.7) – 10,000 THB) ($29) for one hour for a complete package at very reasonable prices.
Chiang Mai Night Safari, Chiang Mai: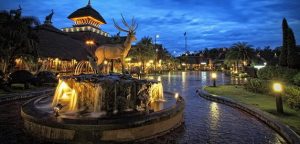 Chiang Mai Night Safari (เชียงใหม่ไนท์ซาฟารี) is located in (Mae Hia) Chiang Mai and the park opened in November 2005 and officially opened on February 6, 2006. The zoo is located in the west of the Royal Park Rajapruek. Chiang Mai Night Safari is maintained by the government under the Zoological Park Organization (ZPO). It was the first public organization, namely Pinkanakorn Development Agency, to cover an area of 819 rai under the management of sustainable tourism areas. Chiang Mai Night Safari is the world's first nocturnal beautiful zoo in northern Thailand and the largest zoo in the world. Chiang Mai Night Safari attaches great importance to the naturalistic study of wildlife behavior for visitors in Asia, Africa and around the world.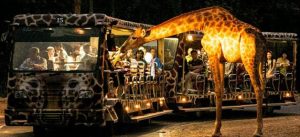 The Chiang Mai Night Safari has some areas where the non-dangerous animals can roam freely and tourists have the opportunity to see the animals up close. There are wild deer and muntjacs that walk around the entrance gate to the main building, where they can be seen in the northern and southern tour zones.
Currently, Chiang Mai Night Safari has changed its opening hours for tourists during the day and night. You can visit the official website of Chiang Mai Night Safari: https://chiangmainightsafari.com/th/
Queen Sirikit Botanical Garden, Chiang Mai: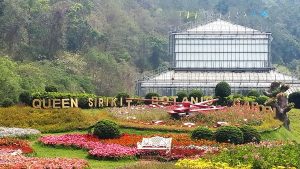 Opened in 1993, the Queen Sirikit Botanical Garden (QSBG) is located in the Mae Rim District of Chiang Mai, Thailand. In 1994, the garden was renamed after Sirikit, Queen of Thailand. The garden is maintained by the Botanical Garden Organization (BGO) of Thailand's Ministry of Natural Resources and Environment. It is Thailand's largest greenhouse complex and houses 12 greenhouses on a site of 6,500 rai. Plants and flowers are displayed throughout the year. It is the first international-standard botanical garden in Thailand to focus on strengthening ex situ conservation of valuable Thai flora, and conservation of native Thai orchids is one of the QSBG's most active programs.
Bua Tong Waterfall or Sticky Waterfall, Chiang Mai: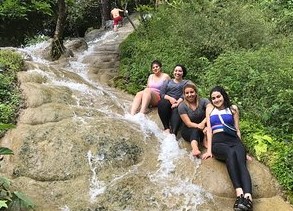 Bua Tong Waterfall and Jedsee Fountain Forest Park was established in September 1994 and is located in Si Lanna National Park, not far from Chiang Mai, a hidden and beautiful tourist attraction in Chiang Mai province. It covers an area of 9,375 rai. The altitude of the landscape park with valleys and streams is about 400-900 meters above sea level and the boundaries of the park are Mae Taeng National Forest Reserve in the north, Khun Mae Kuang Forest and San Sai Forest in the south, Mae Ho Phra Forest in the east and San Sai- Mae Taeng Forest in the west. It is a well-managed park with green areas and a small hut with drinks, ice and a toilet. This attractive limestone waterfall is known for its beautiful attractions and easy to climb steps on the rocks. The sticky waterfall is an extravagant place for adventurous activities and relaxation for tourists. This sticky waterfall is different from the hundreds of other waterfalls in northern Thailand.   Tourists enjoy climbing up the waterfall and seeing the fast-flowing water cascading over the limestone rocks. The waterfall is very attractive for swimming and climbing etc. There are many nice places to sit and enjoy by the water. The ropes hanging from the rocks make it possible to climb the steepest parts of the waterfall, and the surface of the rocks is rough, so it is easy to walk along the watercourse. The waterfall has three steps and is the best place to sit down and enjoy the surroundings. Most of the rocks are white, cream-colored and make a wonderful contrast with the green trees. The limestones also make the water crystal blue, but you cannot swim, just sit in one of the small "pools" at the base of the waterfall, which is a good idea to take swimsuit at the waterfall. Only in some places you have to be a little careful when climbing and swimming at Sticky Waterfall. The weather at the waterfall is very pleasant, cool and abundantly blessed. There are many large and small trees growing densely, so the beauty of the forest can be seen both rain and mixed with many viewpoints.
Trekking in Kew Mae Pan Doi Inthanon, Chiang Mai: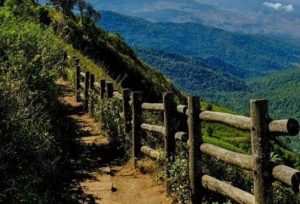 Visit the highest mountain in Thailand and see the pagodas, an attractive natural place. Doi Inthanon is the highest mountain in Thailand and belongs to the Himalayan Mountains. It has a lush vegetation made it one of the most popular national parks in the country. There are many beautiful places to visit, such as the magnificent Pagoda of the King and Queen, which is surrounded by a garden. This is a huge royal project where different varieties of vegetables, plants and fruits are grown in harmony with nature and without the use of chemical products. You can walk one of the most famous trails in the park, the Kew Mae Pan trail, which will take you to the highest point in Thailand in the early morning to enjoy an absolutely extraordinary viewpoint, above the clouds.
Hill Tribe Trekking in the Surrounding Mountains of Chiang Mai, Thailand: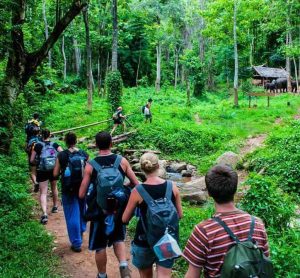 Chiang Mai, the northern province of Thailand, offers the opportunity for Hill Tribe Trekking in the surrounding mountains around the world. Chiang Mai trekking is one of the main attractions for tourists visiting this region. You will get to see the mountains, tropical jungles, valleys, waterfalls, flora and fauna, and the opportunity to stay in a hill tribe village, and perhaps more interestingly, you will have the chance to enjoy some other fun activities such as elephant riding, bamboo rafting, and white-water rafting.
You may just want to trek through the jungle, or you may want to get away from the crowds. Trekking in Northern Thailand is a rewarding experience as you get in touch with the untouched nature and enjoy your moments away from the crowded tourist areas. Trekking is therefore the perfect solution. The areas are absolutely safe and will take you down and up into the jungle. Come and discover the natural beauty of trekking in Chiang Mai in the north of Thailand.
Thailand is a popular country especially for eco-adventure travelers with its beautiful landscapes and places to visit. it offers a wide range of eco-adventure activities from all over the place. A visit to Thailand, especially northern Thailand, is not complete without visiting and exploring the beautiful city of Chiang Mai, which is one of the most visited places. Chiang Mai is the provincial capital of Thailand and offers both modern and traditional Thai culture and many tourist attractions such as temples, markets, shopping malls, parks, zoos, museums and hotels. Chiang Mai is about 700 km away from Bangkok. KM is indeed a destination worth seeing and is one of the fantastic places for the best trekking in northern Thailand.
For whatever reason you visit this wonderful city, you will surely enjoy visiting the whole city of Chiang Mai, making your trip worthwhile. All experiences can be very memorable, tours outside the city can also offer you a world of amazing adventures. Trekking in Chiang Mai you will discover spectacular caves, golden temples in the mountains, fertile forest trails, thundering waterfalls, lush valleys filled with many plants, flowers and colorful birds. You can explore all this and much more in Chiang Mai on foot, by raft or even on an elephant.
Cultural Festivals and Events in Chiang Mai:
The capital city of Chiang Mai hosts numerous cultural and traditional festivals and events every year, where you can enjoy the time of your visit.
The Thai Loy Krathong Festival, Chiang Mai: (ลอยกระทง) (Yi Peng) is known as the Festival of Lights and is celebrated every year on the full moon of the 12th month of the traditional Thai lunar calendar in the Kingdom of Thailand as well as in neighboring countries with Thai culture.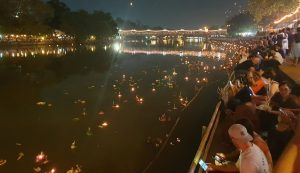 The name is also referred to as "floating ritual vessel or lamp" and comes from the tradition of making krathong, or floating decorated baskets, which are then floated on a river. People make floating containers out of banana leaves (krathong) and decorate the baskets with flowers and candles. Thai people celebrate Krathong as thanksgiving to the goddess of water and worship of the Buddha. Lanna-style sky lanterns are hot air balloons made of paper that rise into the air. These sky lanterns are believed to help and alleviate problems and are used to decorate houses and streets. Loy Krathong and Yee Peng will be celebrated this year in Thailand from November 8-10, 2022.
Songkran Festival in Chiang Mai: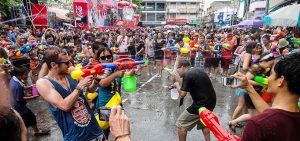 Songkran (เทศกาลสงกรานต์) or the Water Festival is one of the traditional Thai New Year festivals celebrated every April. Chiang Mai is one of the most popular cities during the Songkran festival because it is the largest water fight in the world, with locals and foreigners having fun all over the city. It expresses goodwill, love, compassion and gratitude, using water as a means of expression. In addition to the parades and Miss Songkran beauty pageant, there are also numerous religious and cultural activities held each year.
Chiang Mai Flower Festival, Chiang Mai: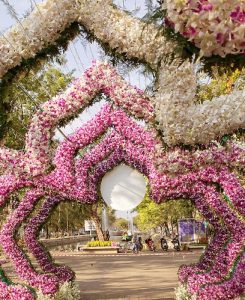 The Chiang Mai Flower Festival is a three-day festival usually held on the first Friday of February each year. The festival takes place when the tropical flowers are in full bloom. There is a parade on the main street with music concerts, flower vendors' stalls, people in traditional costumes, marching bands, vintage cars and huge floats decorated with flowers. This festival is one of Thailand's most beautiful, colorful and family-friendly events enjoyed by people of all ages in Chiang Mai.
Chinese New Year in Chiang Mai: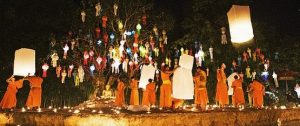 Chinese New Year is a major event in Chiang Mai, Thailand and Asia. About 7 million Chinese people live in all major cities in Thailand. Chinese New Year is celebrated in the Land of Smiles. Warorot market in Chiang Mai is known as a small Chinese town. It is also one of the places where everything is available, from clothes, Thai and Chinese food, cosmetics, herbs, plates and cutlery. Because of the large market, the street is usually full of cars.
Visakha Bucha in Chiang Mai: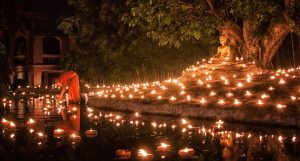 In Chiang Mai, Buddhists celebrate Visakha Bucha Day in the mountains of Doi Suthep, where they walk from the foot of the mountain to the temple at the top of Wat Doi Suthep after sunset. In all major temples in Chiang Mai, i.e., Wat Phra Singh, Wat Chedi Luang, Wat Phra That Doi Suthep and Wat Sri Soda, Makha Bucha Day is celebrated together with thousands of Buddhists. It is an official vacation in most Buddhist countries, especially in Thailand.
Information Technology (IT) Accessories Shopping Centers: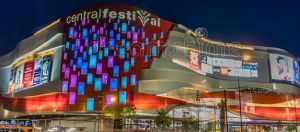 Pantip Plaza, Computer Plaza, Computer City and Icon Square, where you can find computers, spare parts and all services related to the IT accessories, etc.