Krabi Tourists Destination and Koh Lanta National Park, Krabi, Thailand
Krabi (กระบี่) is a small town and the southern provincial capital on the beach of the Andaman Sea in the Kingdom of Thailand. Krabi is one of the safest and most peaceful cities in Thailand with a low crime rate, a low cost of living, and a wide variety of food. Krabi is 785 road kilometers away from the capital, Bangkok, and the flight distance is 656 km.
Krabi is known for its scenic beauty and stunning beaches and islands. The view of the barrier reef is one of the most beautiful in the world, which makes it an ideal place for divers. Krabi is the most relaxing destination, with incredible scenery and beautiful white beaches that stretch across a large area of the province, like a jungle, as well as more than 200 islands right on the beach. Everywhere in Krabi seems to be very beautiful and not exhausting at all. The neighboring provinces are (clockwise from the north) Phang Nga, Surat Thani, Nakhon Si Thammarat, and Trang. Phuket province lies west across Phang Nga Bay to Phuket province. Krabi province consists of eight districts (Amphoe), 1 – Mueang Krabi, 3 – Koh Lanta, 3 – Ao Luek, 4 – Khao Phanom, 4 – Khlong Thom, 6 – Plai Phraya, and 8 – Nuea Khlong and the 8-Lam Thap district.
The humidity in Krabi is slightly lower, but the temperature is high all year round. The main season for tourism in Krabi starts every year between November and March. During the months of June to October, Krabi experiences heavy rainfall, so tourists are less frequent than in other months.
Most of the inhabitants of the province are Buddhists, Thai-Chinese, Moken, Muslims, etc., and the people are very friendly. The main industries of Krabi province are agriculture, tourism, fishing, as well as rubber farming and palm oil, as Thailand is the largest producer of palm oil products, such as Univanich Palm Oil PCL, which also has its headquarters in Krabi. However, tourism is now a major source of income.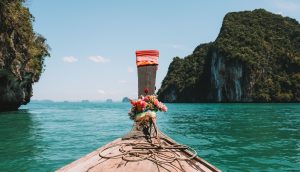 The Phra Nang Peninsula is one of the 154 islands in the province; however, Koh Phi Phi Le is the most famous, as its attractive locations are used for filming, as are Koh Phi Phi Don, which is also part of the Phi Phi Islands, and Koh Lanta, the larger island to the south. These two areas on land and in the sea are lonely limestone peaks, and climbers travel to Ton Sai Beach and Railay Beach.
The limestone hills of Krabi contain many caves with stalactites and stalagmites. The two islands of Tham Chao Le and Tham Phi Hua To are located in the Ao Luek district and contain prehistoric rock paintings depicting animals, humans, and geometric shapes.
There are two shopping markets in Krabi town, namely Maharaj Walking Street Market, which is open from Friday to Sunday from 5:00 am to 10:00 pm, and Chao Fah Pier Night Market, which is open from 5:00 pm to 12:30 am daily.
Krabi has an international airport for passengers, located near the eastern city center, which has been in operation since July 10, 1999. Nearby airports, such as those in Phuket Province, are about 66 km from Krabi, and those in Nakhon Si Thammarat Province are 124 km from Krabi, but there is no train station in Krabi City.
Mu Koh Lanta National Park, Krabi, Thailand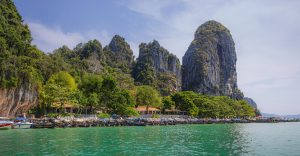 Mu Koh Lanta National Park is located in the south of Krabi province and was established in August 1990. It has many amazing islands, including the largest inhabited islands, namely Koh Lanta Noi and Koh Lanta Yai, the main tourist attraction. The land area of the national park is about 134 km, which is on about 16 large islands such as Mu Ko Rok, Ko Talabeng, Ko Rok Nai, Mu Ko Maa, Ko Hin Dang, and others. About 20 km of the national park is covered with mangrove forest. Ngu, Mai Ngam, and Mai Ngam Tai islands are covered with beach forest. Ko Ngai island is partially covered with beach forest. The Ko Klang islands, as well as Ko Lanta Yai, are the sub-district of Ko Lanta, in Krabi province.
The landscape near the southern edge is mountainous, as well as in the southern part of the park, the coastal plains can be found in the area of the beaches. However, the different areas have more than a 35-degree slope. Also, the range of heights is from sea level to 488 meters at the highest peak. The park is home to nomadic sea gypsies, traditionally known as Chao Le.
There are many bird species that can be seen on the islands, such as Sunda Colugos and flying lemurs, which are often seen in Ko Lanta National Park, as well as some other mammal species, such as wild boars, crab-eating macaques, Sunda slow lorises and dusky leaf monkeys.
There are many other tourist attractions in the park, such as islands, white beaches, coral reefs, hiking trails, caves, as well as many viewpoints that are particularly impressive for tourists.
The small islands are an adventure for snorkelers and divers, who can observe some amazing tropical marine life of the Andaman Sea in the coral skeletons around the islands.
The main center of the national park as well as Ta Nod Beach can be visited by car or motorcycle, but the other islands can be reached by boats on a private basis. The various agencies can help tourists with the necessary bookings throughout the island.
Admission to the park will cost 200 baht for adults and 100 baht for children aged 3 to 14, starting in June 2022.
Thai citizens' fees are 40 baht for adults and 20 baht for children. Cars and motorcycles are charged 30 baht and 20 baht, respectively.
National Park opening hours for tourists are from 8:30 a.m. to 5:30 p.m. daily.
Some islands are closed to tourists during the rainy season from May 16 to October 14 each year to ensure visitor safety and promote marine life recreation.
One restaurant is located near the visitor center and another restaurant is located on Ko Rok Nai Island. Some accommodation is available for rent at the park's visitor center for 1500 baht per night, with 2 rooms for 4 people, so the DNP website only allows advance booking. However, the advance rental should be transferred within 2 days, but for foreign tourists, it takes a long time to transfer the money from abroad, so it is only possible to book within Thailand and make the advance payments in 7-Eleven stores and banks.
In Koh Lanta National Park, there are two campsites for tourists, one in Laem Tanod and one in Ko Rok, where tents and accessories can be rented on site. In Laem Tanod, the rent for tents and accessories for 2 people is 300 baht per night, but cannot be booked in advance.
There is also a campsite in Ko Rok, but this can only be operated with special permission from HQ, which can be obtained by calling HQ. The cost of tents and accessories for 3 people is 510 baht per night.