Ko Lanta Island, Krabi, Thailand
Koh Lanta, also called Ko Lanta, is an amazing and beautiful island and district capital of Krabi Province, Thailand, located on the beach of the Andaman Sea, in the middle of the Phi Phi Islands, which is a bundle of 52 inhabited islands, known for its amazing scenic dozen beaches, tropical evergreen trees, clastic rocky land and tropical forests with a charming atmosphere.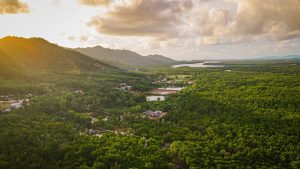 Ko Lanta is the center for tourists to spend a relaxing time here. Numerous travelers come from all over the world to enjoy adventurous tourist activities during the green season, which lasts from May to October and usually lasts only a few days at the peak of the high season. However, Ko Lanta has many islands, but the largest islands are Ko Lanta Noi and Ko Lanta Yai, which is the larger Lanta Island. Mu Ko Lanta National Park has many kinds of beautiful islands, but the largest is Ko Lanta Yai at the southern end. Ko Lanta is also a popular destination with Swedish tourists and is slightly better known than Ko Phi Phi.
Ko Lanta has the most popular attractions for party vacationers, with a much older crowd than at Ko Phi Phi, as well as more beach attractions for walking and watching the sunset than for drinking and dancing. Many beaches of Ko Lanta Yai on the west coast are dotted with a number of resorts and bungalows, as well as the island in its entirety, so it will be a quiet place to relax for you because the beaches are never crowded. There are many fantastic English and Irish bars for tourists who want to enjoy the parties.
Ban Saladan is about 3 km away from Klong Dao Beach and is close to Saladan Pier, the tourist center of Ko Lanta. There are some facilities there, such as shopping, banks, transportation, diving trips, tours, etc.
The Attractions of Koh Lanta, Krabi, Thailand
1- Caves and waterfalls on Lanta:
There are 3 amazing accessible caves on Ko Lanta Yai, but you need flashlights to visit the caves. However, to get into the caves, visitors should enlist the help of experienced guides.
2- Ta Nod Beach:
Located at the southernmost end of Ko Lanta Yai Island, the national park is easily accessible from the road and the western shore. Tha Nod Beach has a lighthouse at the western end and a beach about 300 meters long with greenish blue water at the surface. For hiking or sporting activities, tourists can use a 1.7-kilometer-long circular trail that starts at the visitor center and ends at the main road. It is the end point of the island, which actually resembles a cape rather than a beach and is also called "Laem Ta Nod", meaning "Ta Nod Cape." Ta Nod Beach is a very attractive, alluring, and relaxing beach. Tourists come here to see the lighthouse, which is the landmark of Koh Lanta. The sunset view is also unique and unsurpassed. Besides, tourists can see Koh Ngai Island here, but there is no resort here as this area is in the national park.
3- Khlong Chak Cave and Waterfall:
Khlong Chak waterfall is a small seasonal waterfall surrounded by various attractive tropical rainforests. It is located in the middle of the southern part of Lanta Island and can be reached by a two-kilometer hiking trail that leads to Khlong Chak Cave. The best time for tourists to visit the waterfall during the rainy season is from May to November. The walk to the waterfall is not difficult and takes about 40 minutes. The path to the waterfall is not difficult if you follow the signs, as the waterfall is not attractive during the dry season as very little water flows down. The trailhead is a small village that has a parking lot for your vehicle.
4- Tham Khao Mai Kaew (Cave):
This large, attractive cave in the north of Ko Lanta Yai is reached by a difficult jungle trail that begins at the inter-island road connecting the eastern and western beach roads.
Tourists should be accompanied by a guide who also has basic climbing skills. Upon arrival at the very narrow opening of the cave that must be crossed, one finds that climbing into the cave is the easiest part. Occasionally, getting around the cave requires crawling on the ground. In some caves, do not always try to get into these types of caves without a local guide.
5- Ko Talabeng Island:
This is an island composed of steep clastic rock. Ko Talabeng is an ancient and large rocky island located on the eastern shore of Ko Lanta Noi, about 40 minutes by long boat from Lanta Yai. Ancient pirates used a number of caves on the island for shelter, surrounded by a picturesque green forest where small creatures such as monkeys and lizards can be found. There are many caves at sea level that can be explored by sea kayak.
6- Tham Seua (Tiger Cave):
Tham Seua, also called "Tiger Cave", is located in the south of Khlong Nin. The cave can be reached in about 30 minutes via a well-marked trail that starts at the end of a dirt road and was reportedly inhabited by tigers in the past.