Travel Guide to Bangkok and 5-Star Luxurious Hotels in Bangkok, Thailand
Bangkok is the capital of the Kingdom of Thailand and is known for its ancient Buddhist temples with Buddha figures, tropical beaches and modern shopping malls, which are the most visited tourist destination in the world. Bangkok used to be divided into two districts, Krung Thep on the east bank and Thon Buri on the west, connected by several bridges. In 1972, Bangkok and the two surrounding provinces were merged into one province called Krung Thep Maha Nakhon (Bangkok Metropolitan).
The city offers a heartily mix of the rush and modern sights i.e., ancient attractions including Wat Arun, Wat Pho and Chatuchak Weekend Market which is one of the largest food street markets in the world. Bangkok is the city of different traditions where people meet rich, poor as well east and west. It is also a major tourist destination for beautiful cultural attractions and a nightlife that includes a flourishing sex trade. The Chao Phraya River cover its network of canals, flowing past the Rattanakosin royal district, home to luxurious royal palaces, beautiful Grand Palace and the Emerald Buddha Temple (Wat Phra Kaew) and nearby is Wat Pho Temple with an enormous reclining Buddha and on the opposite shore Wat Arun Temple with its steep steps and Khmer style spire. Bangkok has an endless supply of natural spaces and cultural experiences around Lumphini Park are the perfect antidote to an overdose of over-development, it is the only universal city in Thailand which include the cultural and commercial centers of small towns and villages etc.
In the evening, the top shopping fancy panoramic views and custom cocktails to scuttling around the city's biggest and best markets, which bangkok caters to all tastes and all kinds.
5 Star Luxurious Hotels in Bangkok, Thailand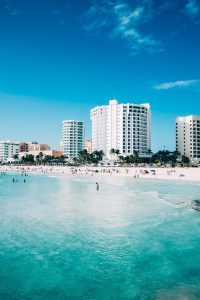 5 Star Luxurious Hotels in Bangkok, Thailand
The world's best rated 10 hotels in the capital city of Bangkok are as under for details information (user rated) leading to the Bangkok Hotels.
1- Mandarin Oriental Bangkok
The Mandarin Oriental Bangkok is a five-star hotel located on the banks of the Chao Phraya River in Bangkok, Thailand. It is one of the two flagship hotels of the Mandarin Oriental Hotel Group. The hotel features 331 luxurious and elegant rooms, including 60 unique suites, and nine restaurants serving cuisine from around the world, including seafood, barbecue, French and Italian cuisine, Thai dishes, Chinese and more. A world-class spa and wellness center with 15 treatment rooms, two swimming pools, yoga, fitness center and two outdoor tennis courts, a squash court and an outdoor running track. Cultural and cooking programs are available for valued guests who want to immerse themselves in local traditions, and the hotel offers flexible, expensive family packages and rooms for a stay with family and children.
Please Visit Website: https://www.mandarinoriental.com/
2- Millennium Hilton Bangkok
A riverside retreat close to the city center and cultural district, with stunning views of the Chao Phraya River from every room. This modern 5-star hotel features 4 dining venues, a gym, and a world-class spa. The surrounding area offers a diverse experience, from unfamiliar local villages and iconic cultural monuments to the ICONSIAM shopping and leisure complex near the BTS Gold Line station. Opulent rooms and suites with river and city views offer Wi-Fi access, apartment-screen TVs, and tea- and coffeemaking facilities. Higher-end rooms add iPod docks, sitting areas and whirlpools, while suites have separate sitting areas and wet bars, plus access to an executive lounge. Parking and shuttle service to nearby attractions are complimentary. There are 4 elegant restaurants, a cafe, a jazz lounge, and a rooftop pool bar with panoramic views. Other amenities include a spa, a sauna and an outdoor infinity pool.
Please Visit Website: https://www.hilton.com/
3- Shangri-La Bangkok
Situated along the vibrant Chao Phraya River, a unique and attractive landmark is a fascinating destination – the Shangri-La Bangkok. A tropical city resort on the magnificent River of Kings, your extraordinary experience begins with a smooth 35-minute ride in our chauffeured hybrid limousine from Suvarnabhumi International Airport. Upon arrival at the hotel, you will be greeted by a porter with a warm smile and unexpectedly friendly Thai hospitality. The hotel's spacious lobby, luxurious rooms and suites that offer a blend of traditional Thai style and modern comfort, and spacious balconies make for an unforgettable "home away from home" experience. You admire the sunrise and the fantastic view of the Chao Phraya River, and after breakfast you rest by a stunning outdoor pool surrounded by lush tropical greenery. You gently close your eyes and think of all the wonderful activities of the day. Store at the city's gleaming malls, charming boutiques and open-air markets, or visit the Grand Palace and other cultural attractions along the river – easily by BTS Sky Train or river cab.
After a long, wonderful day, return to the hotel to rebalance and harmonize your mind and body in the tranquil surroundings of Chi, The Spa at Shangri-La. At dinner, enjoy your favorite Thai dishes in a traditional Thai teak pavilion or on a veranda overlooking the river at the hotel's Salathip Restaurant while enjoying graceful classical dance performances. Alternatively, enjoy an international buffet and great views at night on the Horizon Cruise. Impeccable service and personal attention from a caring team complement the hotel's state-of-the-art facilities and are the hallmark of any stay at Shangri-La Bangkok.
Please Visit Website: https://www.shangri-la.com/
4- Bangkok Marriott Marquis Queen's Park
Discover the modern luxury hotel in Sukhumvit, Bangkok. Connect with the energy of the city at Bangkok Marriott Marquis Queen's Park. Our hotel is ideal for business and leisure travel. Located on Sukhumvit Road, it's just a short walk from popular downtown attractions and close to the BTS Skytrain, MRT subway and Suvarnabhumi Airport. Relax after a busy day at work or exploring Bangkok in our relaxing pool and spa. Enjoy exceptional cuisine at our upscale restaurants, which offer award-winning Chinese, Japanese and Thai dishes. Plan a dynamic corporate event in the 53,000 square feet of event space with capacity for up to 1,500 attendees. At the end of the day, retreat to your refined hotel room or suite, where you can enjoy luxurious amenities and sophisticated décor that blends classic Thai influences with modern touches. Many of our accommodations also offer breathtaking views of the downtown Bangkok skyline. Discover a tranquil oasis in the heart of Sukhumvit at the Bangkok Marriott Marquis Queen's Park. Casual rooms feature Wi-Fi (fee), apartment-screen TVs and mini-fridges, plus sitting areas, marble bathrooms and floor-to-ceiling windows. Club-level rooms add free Wi-Fi and access to a private lounge. Suites have living rooms. Room service is offered 24/7. Valet parking is complimentary. There's a casual restaurant, a Cantonese restaurant and a noodle bar, as well as a tea room and a cocktail lounge. Other amenities include a gym, an outdoor pool and a spa, plus 35 function rooms.
Please Visit Website: https://www.marriott.com/
5- Capella Bangkok
Capella Bangkok's 101 exquisite accommodations are all modern, soothing retreats that focus on the beauty of the Thai capital's riverfront. Outstanding, refined design with thoughtful details complete a style of living that feels like an ideal second home. Unobstructed, unparalleled views of the Chao Phraya River in every room and throughout the resort envelop guests in a cocoon of tranquility in the heart of this bustling gateway city. In the morning, it waits in the wings, providing shade for a leisurely breakfast on your balcony. By midday, the sun pops up over your head to take advantage of the pool at this urban resort, and by nightfall, all rooms and suites are front row to the magenta and lavender light show over the Chao Phraya. 1. waterfront villas with plunge pools and riverfront verandas with plunge pools 2. all areas of the hotel pay homage to the Chao Phraya. All accommodations with balconies and the public areas, i.e., dining, spa garden and function rooms, have floor-to-ceiling windows overlooking the river. 3. The chef's garden serves as inspiration, growing organic and hydroponic herbs and vegetables from the region, tended by our own beehives. The chef offers a table in the garden for dining 4. Flexible check-in and check-out for all guests 5. The only hotel in the Riverside that has The Living Room, which serves as a club lounge and offers drinks and activities throughout the day.
Please Visit Website: https://capellahotels.com/
6- Anantara Riverside Bangkok Resort
This elegant riverside hotel is 3 km from Asiatique the Riverfront, an open-air shopping mall with a Ferris wheel, and 8 km from the Grand Palace. Upscale rooms offer balconies with city, garden or river views, and feature minibars, free Wi-Fi and apartment-screen TVs. Suites add living areas. Higher-end suites add access to a private lounge with food and drinks. There's a free shuttle service to Saphan Taksin Skytrain Station and the Asiatique night market. There are 3 bars, a casual cafe and 6 restaurants. Dinner and river cruises are offered. Other amenities include a spa and an outdoor pool, plus a hot tub, a kids' club and a Thai cooking school.
Please Visit Website: https://www.anantara.com/
7- JC Kevin Sathorn Bangkok Hotel
Close to Bangkok's business district, this first-class high-rise hotel is an 11-minute walk from Chong Nonsi Skytrain Station and 9 km from the ornate Grand Palace. Tastefully decorated rooms feature floor-to-ceiling windows and balconies with city views, free Wi-Fi and apartment-screen TVs, plus mini-fridges, coffeemakers and rain showers. Higher-end rooms add access to a club lounge with complimentary breakfast and snacks. There are 4 restaurants, including an elegant rooftop eatery and a stone-oven pizzeria, plus 2 hip cocktail bars. Other amenities include an infinity pool and spa, plus a gym and tennis court.
Please Visit Website: http://jckevin.com/
8- Lebua State Tower
The second, simplicity – an elegant suite equipped with everything you need to live comfortably and in style. We seem to be on a good track as our guests voted us #1 in Thailand in the Conde Nast Traveler Reader's Choice Awards. Their vote of confidence shows us that they appreciate the same things we do: good beds with luxurious linens, impeccable service, and plenty of room to breathe. And, of course, the view. All suites have a private balcony from which you can enjoy a magnificent view of the city.
We take care of the big and small details so you can experience the best of Bangkok – both in the city and in the State Tower itself. The best shopping and sightseeing in the city are just a tuk-tuk, skytrain or boat ride away. And the best restaurants and bars? Even better, they are just a few floors away from your hotel room.
Please Visit Website: https://lebua.com/
9- Amari Watergate Bangkok
In Bangkok's vibrant Pratunam district, this upscale, modern hotel is a 9-minute walk from Central World shopping mall and 6 km from Wat Phra Kaew temple. Featuring city, garden or pool views, the warm rooms come with free Wi-Fi, apartment-screen TVs and DVD players, as well as tea and coffeemaking facilities, minifridges and safes. Suites add whirlpool tubs. Club rooms have access to a private lounge with complimentary breakfast and cocktails. There's a lively restaurant serving international dishes, as well as a spa and an outdoor pool with a poolside bar. Other amenities include a fitness center and 2 squash courts. Breakfast is available.
Please Visit Website: https://www.amari.com/
10- Chatrium Hotel Riverside Bangkok
Set right on the Chao Phraya River, this elegant apartment hotel is 9 km from the opulent Grand Palace and Wat Pho, a Buddhist temple complex. Relaxed apartments with 1 to 4 bedrooms feature kitchens, living areas, dining tables and balconies with river or city views. All offer free Wi-Fi, apartment-screen TVs, DVD players and washer/dryers. Parking and a boat shuttle are free. There are 3 dining options (one is an open-air restaurant overlooking the river), plus a cafe and a refined lobby bar. Other amenities include a spa, a fitness center, a hot tub, and a lagoon-style outdoor pool.
Please Visit Website: https://www.chatrium.com/