Thailand's Tourist Visa for Tourism for Foreigners from all over the World.
A Tourist Visa is an important document that is entered into the Passport as a Sticker or Stamp that allows a 60-day stay in the Kingdom of Thailand for Tourism purposes. You can apply for a Tourist Visa both in your home country at the Thai Embassy or Consulate and in a Thai Embassy or Consulate in a neighboring country of Thailand.
The following information about all Types of Tourist Visas that can help you understand some of the Visa Categories, Procedures & their Required documents Thailand Tourist Visa.
1- Types of Tourist Visas for Thailand:
(i) – Single Entry Visa that is valid for three months. Once you leave the country, you cannot re-enter even if you have not exhausted the number of days.
(2) – Multiple Entry Visa, which is valid for six months and allows the visa holder to leave and re-enter the country several times for the duration of the visa issuance.
(3) – Visa on Arrival, this visa is issued to nationals of certain countries only for a non-extendable period of 15 days.
2 – How to Apply for a Tourist Visa?
1- A person can apply for a Thailand Tourist Visa at any of Thailand's Diplomatic Missions abroad, such as Embassies or Consulates abroad:
2- The person who wants to apply for a Tourist Visa should contact a Thai Embassy or Consulate in their country or the nearest Embassy.
Make an Appointment to apply for a Tourist Visa, but before you make an Appointment, you should find out the working days, opening hours and payment method for the Tourist Visa fee of the country's Embassy.
Note: You should keep in mind that both Embassy /Consular officials and Immigration Officers reserve the right to request additional documents if they deem it necessary, and also reserve the Right to Refuse to Issue a Visa. It is therefore advisable that you always present yourself in Good Shape, along with your Passport, Application and Money.
3- What is the Fee for Tourist Visa for Thailand?
The Fee for the Tourist Visa to Thailand depends on the country you are applying from and the local currency. However, an approximate fee is between $30 and $50 for a Single Visa and between $150 and $250 for a Multiple Visa. Also, you must pay the Tourist Visa fee in cash or by bank transfer at the time of applying for the Visa, depending on the instructions of the Thai Embassy or Consulate.
4- Required Documents for Tourist Visa at the time of Application: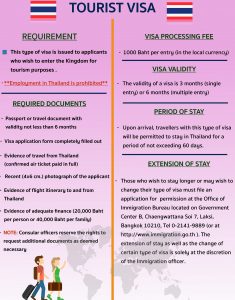 1- Passport valid for at least six months and at least two blank pages
2- Completed and signed Visa Application Form
3- Two recent 4x6cm Photos of the Applicant
4- A Confirmed Return Ticket
5- Sufficient Financial proof for the Duration of the Stay, such as a Bank Statement for at least the last six months or one year, as the case may be.
6- A proof of Accommodation Reservation in Thailand, e.g. a Hotel Booking or an Invitation Letter from a friend, etc.
7- The Fee for the 60-day visa is about 1,000 baht for a Single Entry.
5- How Long does it take to Process a Tourist Visa for Thailand?
The processing time for the Application for a Tourist Visa for Thailand depends on the respective Embassy or
Consulate where you are applying for your Visa. Often, some Embassies and Consulates require between 5 and 10 Business days from the time they receive the completed Visa Application and required documents. However, some Diplomatic Missions claim to issue Visas in less than 2 working days or, in rare cases, even on the same day.
If you wish to Apply by Mail, you should also take into account the time it takes for your documents to be mailed to the Embassy or Consulate and back to you. However, there is no set amount of time, but you should submit your Application at least a few weeks in advance. if you are Planning to Travel.
6- Extension of Tourist Visa in Thailand?
All Types of Thai Visas can be extended for a maximum of 30 days per Single Entry for a period of 60 days. The Visa Fee is 1,900 Baht (regardless of the type of extension and duration) at the Local Immigration Offices in the Kingdom of Thailand.
If you are still in Thailand on a regular tourist visa and wish to stay longer than the visa is issued, you must apply for an extension at the Office of the Thailand Immigration Office in Bangkok before your Tourist Visa Expires, unless you have a Visa on Arrival. Visa Extensions are issued for up to 30 days, but the Final Decision rests with the relevant Immigration Officials.
7- What Happens to the Tourist Visa, If I Overstay?
If you overstay your Tourist Visa in the Kingdom of Thailand, you will be fined starting at 500 Baht per day and can go up to 20,000 Baht per day if you overstay more than 40 days.
If you Overstay your Visa for more than 90 days, you will be Deported and Banned from entering the Kingdom of Thailand. The length of the entry Ban depends on how long you Overstayed your Visa and can range from 1 to 10 years.
8- How can I work with a Tourist Visa for Thailand?
The Holder of such a Visa is not allowed to work or engage in any other activity on a Tourist Visa to Thailand.
However, Foreigners who wish to Live, Work or do Business in Thailand should obtain a Non-Immigrant Visa or a Residence Visa. If someone Wishes to take up Paid Employment, they will also need a Work Permit, which the employer must apply for from the Thai Ministry of Labor.
Note: If you have any question or suggestion, please share your valued Comments.